ACCSP releases SAFIS eTRIPS/mobile v2 with Switchboard
ACCSP has just released the newest version of SAFIS eTRIPS/mobile v2.This new version features innovative functionality for the Switchboard Attributes. ACCSP and its partners have identified core data elements to be collected on all trips reports.  In addition to these core elements, some partners may also choose to collect additional 'supplemental' elements. SAFIS administrators can use the Switchboards to control whether these supplemental elements are displayed on their trip reports, and whether the elements are required or optional. The eTRIPS application will dynamically turn those elements on/off based on how each partner has configured their Switchboard rules. This allows much greater flexibility for partners to control the information collected on their form, and minimizes application development changes by programmers.  eTRIPS/mobile v2 can be used on Android, Apple iOS, and Windows 10 devices.
A major highlight of the Species Attributes Switchboard is the feature of additional questions when an HMS species is caught. This reduces duplicative reporting. The additional HMS questions allow for HMS requirements to be met, and means the eTRIPS form fulfills reporting requirements so the fishermen do not have to report twice by filling out both their VTR and reporting to HMS.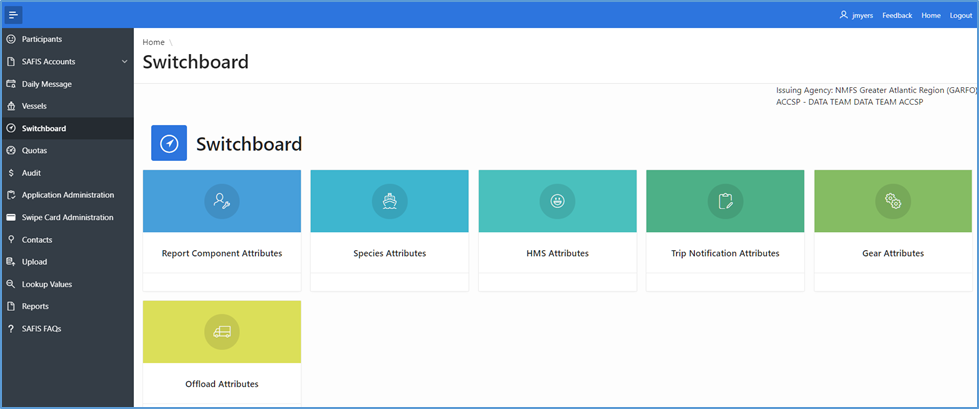 Types of Switchboards consist of:
– Trip-Header Switchboard
– Effort Switchboard
– Catch Switchboard
– Gear Attributes Switchboard
– Species Attributes Switchboard
– Offload Attributes Switchboard
– Trip Notification Switchboard
eTRIPS/mobile (original version 1) is now disabled and has been replaced with eTRIPS/mobile v2. Please remember to download the newest version. 
If you have any questions or concerns, please call the 24×7 help desk at 800-984-0810.
Or please email support@accsp.org.