APAIS Tablet Developed to Expedite Data Processing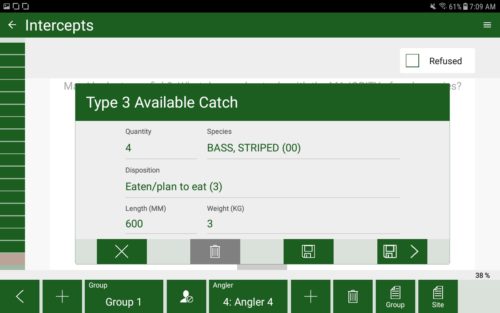 Since assuming responsibility for coordinating state conduct of the MRIP Access Point Angler Intercept Survey (APAIS) back in 2016, ACCSP has collaborated with state and federal partners on efforts to streamline survey conduct and data processing, with the ultimate goal of providing timelier, more accurate data for recreational estimates. ACCSP's Recreational Technical Committee members had a chance to view the latest product of this effort when they were presented with an APAIS tablet prototype at their June meeting.
Intended for deployment in the 2019 fishing season, the tablet will enable state APAIS interviewers to record and transmit angler intercept data electronically, rather than on paper forms. The tablet features built-in logic that hinders introduction of errors during data entry. Electronic data transmission will eliminate time spent on shipping and scanning paper forms, reducing ACCSP's processing time by two to three weeks. This will provide the state partners with additional time to review edits and perform final data checks before the data are submitted to NOAA at the end of the month. Moving to electronic data collection for APAIS will also address a priority item in the 2017 MRIP Implementation Plan.
Created through an ACCSP-funded project led by the South Atlantic Fishery Management Council back in 2016, the tablet was first designed as a reporting tool to support dockside validation of charter logbooks in the South Atlantic. Through an iterative process of internal development and external field testing, the tablet is nearly complete for dockside assignments. This year, ACCSP funded a Rhode Island project proposal to add headboat at-sea data collection assignments and further develop the dockside reporting tablet.
The current iteration of the tablet received very positive feedback from Recreational Technical Committee members. Further modifications are planned before another round of field testing begins this fall. ACCSP and its state partners are aiming for full implementation by 2019.